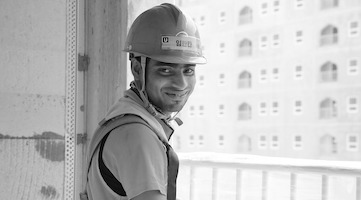 SPOTLIGHT ON OCCUPATIONAL EXPOSURE ESTIMATES
Updates to our occupational exposure estimates, upcoming webinar
​We are pleased to announce that we have updated our suite of occupational exposure estimates for over 40 known or suspected carcinogens, including asbestos, solar radiation, and silica. These estimates, updated from 2006 to 2016, include the number of workers exposed to carcinogens by industry, occupation, province, sex, and exposure level (when available).
Our results show that there has been an increase in the number of workers exposed to some key carcinogens in Canada over time*. For example:
*Note: Many of the changes observed in the 2016 estimates reflect changes in the Canadian labour force. For asbestos, however, the increase was primarily driven by the identification of additional occupations where exposure may occur that were not included in our 2006 estimate.
The new 2016 estimates can be viewed on the occupational exposures tab of select carcinogen profiles.
Our occupational exposure summaries have also been redesigned and updated with our new estimates. These documents summarize CAREX Canada data and resources by occupation (e.g. welders), industry (e.g. construction, mining), cancer site (e.g. lung carcinogens), and more. The summaries are available here.
Are you interested in learning more about our updated occupational exposure estimates and workplace cancer prevention? We are hosting a webinar on January 25, 2022 that will walk you through our results, share how they can be used to help inform cancer prevention activities, and discuss what's next in occupational cancer prevention with three experts in the field: Drs. Mary Schubauer-Berigan, Calvin Ge, and Paul Demers. Register here.
TEAM NEWS
Dr. Anne-Marie Nicol's changing role
In early 2022, Dr. Anne-Marie Nicol will be moving on from her role as CAREX Canada's co-Principal Investigator, and Dr. Cheryl Peters will be taking over as lead Principal Investigator. Please join us in thanking Dr. Nicol for her incredible work with CAREX Canada. Her contributions and expertise have been a valued asset to our team. We wish her all the best in her future endeavours.
A message from Dr. Nicol
Over the past 15 years, I have had the pleasure of meeting and working with a fantastic and talented group of people at CAREX Canada. I want to thank them, along with our many stakeholders and the Canadian Partnership Against Cancer for making CAREX Canada the unique and successful resource that it is today.
With best wishes,
Anne-Marie
UPDATING RESOURCES
Assessing carcinogen exposures in young and new workers
Young and new workers are often at greater risk of injury on the job, but little is known about their increased vulnerabilities to carcinogen exposures at work. Many unique characteristics of these populations may put them at higher risk of exposure, including limited workplace experience and inadequate safety training. We conducted a review to identify workplaces where young and new workers might be at higher risk of exposures, including those with a large number of young or new workers and a higher number of potential exposures. We found that young and new workers in the construction industry, young workers in farming and other outdoor jobs, and new workers in the accommodation and food services sector may be at greatest risk for exposure to carcinogens.
The key findings of this research can be found in the research briefs and summary here.
New carcinogen profiles for acrolein and 1-bromopropane
Profiles for acrolein and 1-bromopropane are now available. Acrolein is a chemical synthesized for use as a pesticide in Canada, and is also generated during natural processes (e.g. during forest fires) and through human-driven activities (e.g. during the combustion of organic materials including fuels, high temperature cooking, smoking). In 2020, acrolein was classified by the International Agency for Research on Cancer as probably carcinogenic to humans (Group 2A). The new acrolein profile is available here.
1-Bromopropane is used as a solvent in the spray adhesive industry to manufacture polyurethane foam cushions, as a vapour degreasing agent, and as a cleaning solvent for metals, plastics, optical, and electronic components. Workers are primarily exposed through inhalation and dermal contact, with aerosol applications leading to higher exposures. The International Agency for Research on Cancer classifies 1-bromopropane as possibly carcinogenic to humans (Group 2B). The new 1-bromopropane profile is available here.
COMMUNICATIONS UPDATE
New pesticide webinar recording, overview video, and a podcast on radon
A recording of our webinar on occupational and environmental pesticide exposures is now available. This webinar discusses exposures to three commonly used pesticides in Canada – glyphosate, 2,4-D, and chlorothalonil – among agricultural workers and residents living near agricultural areas, and provides an overview of our new pesticide exposure estimates.
We've also updated our CAREX Canada overview video, which includes a tour of our website and a summary of the resources and tools that we offer. The videos are available here.
Our co-Principal Investigator Dr. Cheryl Peters recently spoke to the Canadian Centre for Occupational Health and Safety (CCOHS) on their podcast to discuss workplace radon exposures and the impact the pandemic has had on radon exposures at work and at home. The podcast episode is available here.
RECENT PUBLICATIONS
Cancer and the environment project, safe handling of antineoplastic drugs, and radon in schools
Our team recently published several journal articles on CAREX-related research, including:
A full list of our publications is available here.
Please note that the CAREX Canada e-Bulletin is now a bi-annual digest. For more regular communications from us, please subscribe to Carcinogens in the News, a monthly digest of media articles, government reports, and academic literature related to the carcinogens we've classified as important for surveillance in Canada.
Subscribe to our newsletters
The CAREX Canada team offers two regular newsletters: the biannual e-Bulletin summarizing information on upcoming webinars, new publications, and updates to estimates and tools; and the monthly Carcinogens in the News, a digest of media articles, government reports, and academic literature related to the carcinogens we've classified as important for surveillance in Canada. Sign up for one or both of these newsletters below.
As a national organization, our work extends across borders into many Indigenous lands throughout Canada. We gratefully acknowledge that our host institution, the University of British Columbia Point Grey campus, is located on the traditional, ancestral and unceded territories of the xʷməθkʷəy̓əm (Musqueam) people.