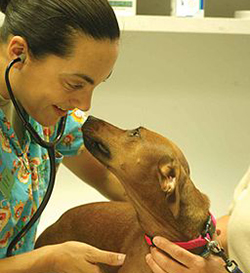 CAREX team members performed the first national assessment of Canadian veterinary workers' exposures to ionizing radiation and antineoplastic agents (drugs used to treat cancer). The results of this assessment are published in the November/December 2013 issue of the Canadian Journal of Public Health.
There are approximately 12,600 registered veterinarians in Canada, employed primarily in private practice, government, education, research, and industry. An additional 11,100 Canadians are trained to assist as "veterinary technicians".
Ionizing radiation, a known carcinogen, is commonly used for X-ray scans in veterinary practice. CAREX estimates showed that <10% of all veterinarians and veterinary technicians were exposed to an annual ionizing radiation dose above 0.1 mSv (the minimum detectable level) in 2006, representing a total of between 536 and 1450 workers. Although none of these exposures was over regulatory limits, accumulated low levels of ionizing radiation may present a health hazard. Exposure estimates were calculated using a combination of Census statistics and data from the Radiation Protection Bureau of Health Canada's National Dose Registry.
Although the National Dose Registry is intended to monitor all potentially exposed workers, CAREX found that not all are being captured by this program . Provincial monitoring proportions ranged from 12% to 94% of veterinarians and 9% to 80% of veterinary technicians. This variation can be partly (but not entirely) explained by differences in monitoring requirements across provinces.
For antineoplastic agents, used to treat cancer in dogs and cats, exposure was predicted in up to 23% (5,300) of all veterinary workers, with an estimated prevalence range of 22% to 24% of veterinarians and 20% to 21% of veterinary technicians. Estimates were developed using statistics on employment by practice type obtained from veterinary licensing bodies, and agent usage rates obtained from peer-reviewed literature.
CAREX's investigation into exposures to antineoplastic agents revealed that little is known about how the agents are being used and who is being exposed in Canadian veterinary settings. This is likely due to their emerging – and increasing – use in veterinary medicine and a lack of regulatory surveillance.
Suggested next steps include increasing exposure surveillance and examining exactly how veterinarians are being exposed to these agents across practice areas, occupations, and tasks. This information will help to identify individuals at risk for exposure and disease, direct prevention efforts, and inform future research.
To learn more about ionizing radiation and antineoplastic agents, and how Canadians are exposed to these and many other agents at work, please visit our Profiles and Estimates page.
Subscribe to our newsletters
The CAREX Canada team offers two regular newsletters: the biannual e-Bulletin summarizing information on upcoming webinars, new publications, and updates to estimates and tools; and the monthly Carcinogens in the News, a digest of media articles, government reports, and academic literature related to the carcinogens we've classified as important for surveillance in Canada. Sign up for one or both of these newsletters below.
As a national organization, our work extends across borders into many Indigenous lands throughout Canada. We gratefully acknowledge that our host institution, the University of British Columbia Point Grey campus, is located on the traditional, ancestral and unceded territories of the xʷməθkʷəy̓əm (Musqueam) people.