What is CAREX?
CAREX Canada (CARcinogen EXposure) is a multi-institution team of researchers and specialists with expertise in epidemiology, risk assessment, toxicology, geographic information systems, and knowledge mobilization. The purpose of CAREX Canada is to provide a body of knowledge about Canadians' exposures to known and suspected carcinogens, in order to support organizations in prioritizing exposures and in developing targeted exposure reduction policies and programs.
CAREX Canada is funded by the Canadian Partnership Against Cancer and hosted at the University of British Columbia.
For more background about CAREX Canada, see our Frequently Asked Questions.
Vision
To help reduce Canadians' exposures to carcinogens and reduce the risk of cancer
Mission
To inspire action towards reducing Canadians' exposures to carcinogens by:
Offering an accessible, educational repository of information about Canadians' exposures to carcinogens
Providing unique expertise that organizations can use to set evidence-based priorities for research, policy, and practice
Offering relevant, up-to-date information that addresses how exposures are impacted by changing environments
Supporting efforts to reduce exposure inequities across jurisdictions and populations
Guiding principles
CAREX Canada acts as a credible, go-to source of information about Canadians' exposures to known and suspected carcinogens where people live and work.
CAREX Canada research and knowledge mobilization efforts are relevant and useful to organizations working to protect populations from exposures to carcinogens.
CAREX Canada works collaboratively through partnerships and networks to offer unique expertise and apply exposure estimates towards prevention research, policy, and practice.
CAREX Canada scientists work at the forefront of epidemiology, risk assessment, toxicology, geographic information systems, and knowledge mobilization.
Funding
Funding for CAREX Canada's pilot project in 2003 came from WorkSafeBC. Since 2007, CAREX Canada has been funded by the Canadian Partnership Against Cancer, an independent organization funded by Health Canada to accelerate action on cancer control. CAREX Canada was hosted at Simon Fraser University from 2013-22, and has been hosted at the University of British Columbia since 2022.
Additional funding for First Nations knowledge translation and exchange has been provided by:
Additional funding for the Canadian Workplace Exposure Database (CWED) has been provided by:
LINDSAY FORSMAN-PHILLIPS
Senior Project Manager
Lindsay Forsman-Phillips is a senior project manager at CAREX Canada. Previously, she was a Sun Safety Advisor based in BC for the Sun Safety at Work Canada project, which developed a sun safety program, resources and tools for outdoor workers. The project was led by Thomas Tenkate at Ryerson University in Toronto. Lindsay holds a Bachelor's degree in Kinesiology. Her past experience includes working for municipal government and non-profit organizations, where she was responsible for the development of community health programs, and various cancer prevention projects. She is passionate about health, and enjoys raising awareness about important health issues.
KRISTIAN LARSEN
Research Scientist
Kristian is a research scientist at CAREX Canada. Over the past ten years he has used GIS methods to examine environmental health topics such as air pollution, physical activity, diet, obesity, asthma, and pedestrian injuries. Kristian has conducted environment and health-related research with the Hospital for Sick Children (SickKids), the Centre for Addiction and Mental Health (CAMH), Sunnybrook Health Sciences Centre, Metrolinx, and the University of Toronto. He holds a PhD in Planning from the University of Toronto and an MA in Health Geography from the University of Western Ontario. Kristian also conducted post-doctoral work in Epidemiology and Public Health with a focus on GIS.
CHERYL PETERS
Principal Investigator / Occupational Exposures Lead
Cheryl is CAREX's principal investigator. She started working with CAREX Canada at the beginning of the project in 2007. She is the Senior Scientist for Cancer Prevention at the BC Centre for Disease Control and BC Cancer. She is also an Adjunct Professor in the School of Population and Public Health at the University of British Columbia and an Adjunct Assistant Professor in the Department of Oncology at the University of Calgary. Cheryl has an MSc and PhD in occupational and environmental hygiene, both from the University of British Columbia. Her research interests include occupational exposure assessment (particularly for solar UV radiation), the effects of sex and gender on occupational carcinogen exposures, and exposures in the construction industry. Cheryl also holds a BSc in earth and ocean sciences and geography, and her interest in environmental and occupational health stemmed from her work as a geologist in northern BC and the Yukon.
ELA RYDZ
Senior Research Associate
Ela is a senior research associate at CAREX Canada. Ela's interests lie in occupational exposure assessment (including exposures to pesticides and shiftwork), the impacts of sex and gender on health, and the mobilization of occupational exposure and cancer research through accessible tools, materials, and collaborations. Previously, Ela worked at the Occupational Cancer Research Centre, led by Dr. Paul Demers, where she mobilized estimates of the burden of occupational cancer and coordinated a radon survey of workplaces in Ontario. Ela has a Master of Public Health (MPH) in environmental and occupational health from the University of Alberta; for her master's capping project, she assessed dietary exposure assessment to PAHs and heavy metals in berries in Northern Alberta.
JOANNE TELFER
Knowledge Translation Specialist
Joanne is a knowledge translation specialist at CAREX Canada. Joanne's interest in environmental and occupational health began during her undergraduate studies in Toxicology at the University of Saskatchewan. She completed a Master of Public Health degree from Simon Fraser University in Burnaby, BC, where she wrote her final master's project on knowledge translation in environmental health. Through this project, Joanne identified some of the unique characteristics and challenges associated with knowledge translation in environmental health and examined the knowledge-to-action gap in Canada. She also critically analyzed the Canadian Environmental Health Atlas, an online knowledge translation initiative for which she is currently the Project Coordinator. Joanne is particularly interested in environmental contaminants and is inspired by the use of creative approaches to communicating occupational and environmental health knowledge across various populations.
ANNE-MARIE NICOL
Key Partner
Anne-Marie is an Associate Professor in the Faculty of Health Sciences at Simon Fraser University. Her research focuses on the communication of complex scientific and public health information to a range of audiences. Her work is multidisciplinary, crossing the fields of epidemiology, toxicology, social marketing, risk perception and risk assessment. Most recently, Anne-Marie is focused on the pandemic response and is the Health and Risk Communication Lead for a new program of research, the Pacific Institute for Pathogens, Pandemics and Society (PIPPS). She is also a Knowledge Translation Scientist at the National Collaborating Centre for Environmental Health.
PAUL DEMERS
Key Partner
Paul is the director of the Occupational Cancer Research Centre (OCRC) housed at Cancer Care Ontario. He moved to OCRC from UBC, where he was a Professor in the School of Environmental Health and founded CAREX Canada. As well as being Director of the OCRC, he is also a Professor with the University of Toronto's Dalla Lana School of Public Health. He has an MSc in Industrial Hygiene and a PhD in Epidemiology, both from the University of Washington in Seattle. Paul is internationally recognized for his expertise on the health effects of workplace exposures and sits on many expert panels, including the International Agency for Research on Cancer working groups that evaluated carcinogens such as dusts and fibres, firefighting and formaldehyde.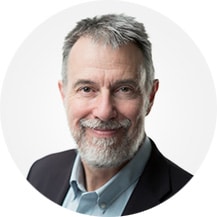 HUGH DAVIES
CWED Lead and Key Partner
Hugh, the co-investigator of CAREX Canada and lead on the Canadian Workplace Exposures Database, specializes in occupational hygiene and exposure assessment and modelling. He led the largest cohort study of the impact of noise exposure on heart disease, and was the first to incorporate sophisticated exposure measurement and true heart disease outcomes rather than measures of hypertension. His work has received international recognition, and he is co-chair of the International Commission on the Biological Effects of Noise.
Associates and Past Contributors
Past Contributors
We would like to acknowledge the significant contributions of many CAREX team members who have moved on to other assignments:
Shelby Fenton Occupational exposure estimates; COVID-19 media surveillance.
Alison Palmer Leadership; strategic operations; communications; knowledge mobilization.
Sajjad Fazel Safe handling of antineoplastic agents; sun safety messaging.
Amy Hall Occupational exposure estimates.
Paleah Black Moher Environmental exposures; pesticide estimates; First Nations KT.
Eleanor Setton Leadership; environmental exposures estimates; First Nations KT.
Chantal Burnett Occupational exposure estimates; profile development and updates.
Mandy Pui eRISK tool; user experience; evaluation.
Roz Cheasley Environmental exposures estimates (food and beverages); tutorial videos.
Orion Warje Knowledge translation tracking; research support.
Marabeth Kramer Occupational exposure estimates; profile research.
Karla Poplawski Environmental exposures estimates; First Nations KT.
Calvin Ge Occupational exposure estimates; eWORK tool.
Basil Veerman Emissions Mapping Project.
Katie Raso Knowledge translation design.
Benita Okocha Knowledge translation tracking.
Zaeem Khan Radon occupational exposure estimate; profile updates.
Caitlin Blewett Pesticides and para-occupational exposure literature review and risk assessment protocol.
Alejandro Cervantes Outdoor air environmental estimates; geographic information systems.
Philip Chen Substance profiles, data cleaning and analysis for occupational exposure team.
Yat Chow Occupational estimates.
Steeve Deschenes Large spatial datasets; land use regression models for outdoor air modeling; substance profiles and video tutorials.
Negar Elmieh Pesticide policy in Canada.
Anders Erickson Emissions Mapping Project (EMP) database and methods assessments and emissions estimates; EMP training for First Nations groups.
Nichole Garzia Surveillance methods for estimating agricultural pesticide use and exposure.
Kristin Hodgins Research and review of historical news coverage of asbestos issues; development of an asbestos policy timeline.
Christie Hurrell Knowledge translation; communications and website design.
Sarah-Nelle Jackson Website design; substance profiles.
Barbara Karlen Implementation of needs assessment survey; project management.
Anya Keefe Partnership building; communications; government relations.
Barbara Lang Occupational estimates.
Jennifer Matthews Website development; knowledge translation strategy.
Alison McKenzie Pesticide estimates; development of the Workplace Exposures Mobile Tool.
Tyler Morgenstern Design of occupational estimate tables.
Brian Sloan Systematic review of risk communication research on asbestos and radon.
Matt Tomlins Spatial data to support the environmental indicators.
Cloe Whittaker Tutorial videos and training manuals; content management of CAREX and EMP websites; French translations.
Advisors
Pesticide Advisory Committee (PAC) members
CAREX Canada's Pesticide Advisory Committee (PAC) members are based in Canada and the U.S. and offer a broad range of exposure research expertise. These advisors are helping to guide the development of our pesticide exposure estimates. They include:
Scientist Emeritus, National Cancer Institute, National Institutes of Health
Associate Professor, University of British Columbia and Affiliated Scientist, BC Cancer Agency
Evaluation Officer, Pest Management Regulatory Agency, Health Canada
Assistant Researcher, Center for Environmental Research and Children's Health (CERCH), Berkeley
Scientist, Cancer Care Ontario and Associate Professor, University of Toronto
Professor and Assistant Chair, University of Washington
—
We would also like to acknowledge the contributions of our Knowledge Translation Advisors, who helped guide our knowledge translation strategy and supported our efforts to put CAREX resources and tools into action for cancer prevention in Canada, as well as the many agency, government, and academic experts who provided scientific feedback during the development of our environmental and occupational exposure estimates.
Subscribe to our newsletters
The CAREX Canada team offers two regular newsletters: the biannual e-Bulletin summarizing information on upcoming webinars, new publications, and updates to estimates and tools; and the monthly Carcinogens in the News, a digest of media articles, government reports, and academic literature related to the carcinogens we've classified as important for surveillance in Canada. Sign up for one or both of these newsletters below.