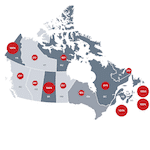 SPOTLIGHT ON RADON IN SCHOOLS
Updated research on school testing in Canada
During Radon Awareness Month this November we released our updated Radon in Schools research. Our team investigated where school testing has occurred in Canada, as a follow-up to our research in 2016. We found that school testing rates remain low in some of the most populated provinces, although some school districts in these provinces are taking the initiative to test. A summary of the results is available here.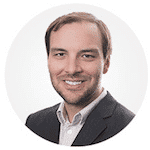 ADDITION TO THE CAREX TEAM
Welcome Kristian
The CAREX team is pleased to welcome new staff member Kristian Larsen, Geographic Information Systems (GIS) Specialist. Based in Toronto, Kristian has used GIS methods to examine environmental health topics such as air pollution and physical activity. He has worked with a number of organizations, including the Hospital for Sick Children (SickKids), the Centre for Addiction and Mental Health (CAMH), and the University of Toronto. At CAREX, Kristian is applying his GIS expertise to develop new models of pesticide exposure and to enhance existing CAREX resources with new data visualizations. Please join us in welcoming Kristian to the CAREX team. His full biography can be found on the About Us page.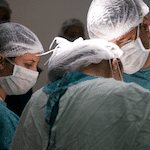 NEW RESOURCES
Two new Package Summaries now available
A new industry-focused summary on carcinogens that health care workers may be exposed to is now available. The package provides an overview of the most prevalent exposures for those working in health care, including shiftwork, antineoplastic agents, formaldehyde, artificial ultraviolet radiation, and diesel engine exhaust. For more information on exposure to antineoplastic agents in Canadian workplaces (including health care), view a recording of our recent webinar with WorkSafeBC on our Videos page.
Another exposure package summary – on priority carcinogens in traffic-related air pollution (TRAP) – is also now available. TRAP is a major contributor to outdoor air pollution, which is classified by the International Agency for Research on Cancer (IARC) as carcinogenic to humans. This package summarizes the many components of TRAP associated with cancer, including diesel engine exhaust, gasoline engine exhaust, particulate matter, 1,3-butadiene, benzene, and formaldehyde.
To learn more, and to view the other summaries we've developed visit our Package Summaries page.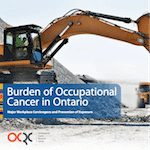 PARTNER UPDATE
OCRC and CCO release burden of occupational cancer report
The Occupational Cancer Research Centre (OCRC) and Cancer Care Ontario (CCO) recently released their Burden of Occupational Cancer in Ontario report, which focuses on the most common carcinogens found in Ontario workplaces and their contribution to occupational cancer. Results show that solar radiation, asbestos, diesel engine exhaust, and crystalline silica had the largest cancer burden in the province. The report also highlights opportunities to reduce the burden of cancer in Ontario, including strengthening occupational exposure limits, enforcing existing regulations, and reducing the use of toxic substances. CAREX Canada's occupational exposure estimates were used to produce the burden estimates. To view the full report, visit the OCRC website.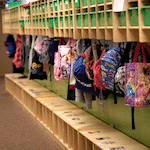 RECENT PUBLICATIONS
Call for action on radon in child care settings
This commentary from children's health, policy, and radon experts highlights the need for a comprehensive approach to radon safety in Canadian child care facilities. Most child care centres in the country have not been tested for radon, and specific legal requirements are lacking. To help address this, the authors identified several opportunities to protect both children and staff, including regulations, licensing requirements, and ministry-funded testing and remediation programs. Authors include colleagues from the Canadian Partnership for Children's Health & Environment, the Canadian Child Care Federation, the Canadian Environmental Law Association, Interior Health Authority, Health Canada, and our Co-Principal Investigator Anne-Marie Nicol. The publication is available here.
Please note that the CAREX Canada e-Bulletin is now a bi-annual digest. For more regular communications from us, please subscribe to Carcinogens in the News, a monthly digest of media articles, government reports, and academic literature related to the carcinogens we've classified as important for surveillance in Canada.
Subscribe to our newsletters
The CAREX Canada team offers two regular newsletters: the biannual e-Bulletin summarizing information on upcoming webinars, new publications, and updates to estimates and tools; and the monthly Carcinogens in the News, a digest of media articles, government reports, and academic literature related to the carcinogens we've classified as important for surveillance in Canada. Sign up for one or both of these newsletters below.
As a national organization, our work extends across borders into many Indigenous lands throughout Canada. We gratefully acknowledge that our host institution, the University of British Columbia Point Grey campus, is located on the traditional, ancestral and unceded territories of the xʷməθkʷəy̓əm (Musqueam) people.