Outdoor Air Pollution Environmental Exposures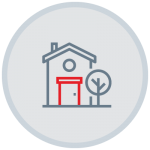 Contents
Outdoor Air Pollution Environmental Exposures
Overview
Canadians are exposed to fine and ultrafine particles by breathing outdoor air containing emissions from any combustion source, including industrial processes, gasoline and diesel engine exhausts, fireplaces, furnaces, prescribed burning for forestry and agricultural purposes, and naturally-caused wildfires.[1]
READ MORE...
CAREX Canada estimates of potential lifetime excess cancer risk for outdoor air pollution are unavailable at this time. According to the Canadian Population Attributable Risk of Cancer (ComPARe) study, 6.9%, or 1,700 lung cancer cases were due to exposure to PM2.5 in outdoor air in 2015[2]. The study estimates that over 3,000 lung cancer cases could be prevented between 2016 and 2042 if declining trends in PM2.5 continue.
Particulates in outdoor air are monitored by the National Air Pollution Surveillance (NAPS) network. In 2013, the annual average levels of PM2.5 was 7.3 µg/m3, and the annual peak 24-hour concentration was 20 µg/m3. Both of these values remained below the 2015 Canada Wide Standard.[1] Between 1985 and 2012, daily averages for PM10 remained below 10 µg/m3 in 44 of 49 different sites located across Canada. Higher levels of PM10 were found in large urban areas and near roadways.[3]
A search of Environment Canada's National Pollutant Release Inventory (NPRI) yielded the following results on current potential for exposure to outdoor air pollution in Canada:
NPRI
NPRI 2015[4]
Substance name: 'PM – Total Particulate Matter'
'PM10 – Particulate Matter ≤ 10 microns'
'PM2.5 – Particulate Matter ≤ 2.5 microns'
All amounts released into environment (on-site release)
PM Type
# of facilities
Quantity
Industry
Total PM
1,188
327,251 t
Resource extraction and processing, manufacturing
PM10
3,142
131,212 t
PM2.5
3,521
48,780 t
t = tonne
Mapping
This map shows predicted levels of PM2.5 in outdoor air at residential locations in Canada in 2011. The average concentration of PM2.5 measured in outdoor air in 2011 was 6.9 µg/m3, but concentrations of PM2.5 can be higher or lower than average in many locations. 
2011 Predicted Annual Average PM2.5 Concentrations in Outdoor Air at Residential Locations

*Measured at the National Air Pollution Surveillance (NAPS) monitors in 2011
Methods and Data
Our Environmental Approach page includes documentation on our mapping methods.
Data sources and data quality for outdoor air pollution can be found in the PDF below.
Subscribe to our newsletters
The CAREX Canada team offers two regular newsletters: the biannual e-Bulletin summarizing information on upcoming webinars, new publications, and updates to estimates and tools; and the monthly Carcinogens in the News, a digest of media articles, government reports, and academic literature related to the carcinogens we've classified as important for surveillance in Canada. Sign up for one or both of these newsletters below.