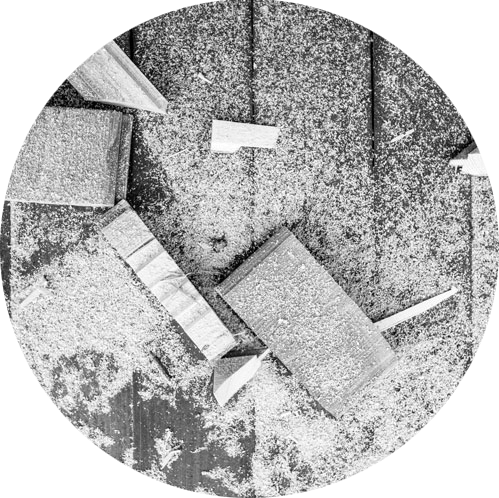 FIBERS AND DUSTS – KNOWN CARCINOGEN (IARC 1)
Contents
CAS No. 
IARC Monograph Vol. 62, 1995 (Group 1)
IARC Monograph Vol. 100C, 2012 (Group 1)
QUICK SUMMARY
A by-product of logs being converted into finished wood products
Associated cancers: Cancers of the nasal cavities, paranasal sinuses, and nasopharyngeal region
Most important route of exposure: Inhalation
Occupational exposures: Approx. 304,000 Canadians are exposed to wood dust at work, primarily in the construction sector
Environmental exposures: Via home projects including wood working, arts and crafts, and construction activities
Fast fact: Quebec and Ontario produce the majority of hardwood lumber and plywood in Canada, while British Columbia produces primarily softwoods.
General Information
Wood dust, generated through wood processing, is composed of cellulose, polyoses, and lignin compounds.[1] A variety of biologically active, low molecular weight compounds may also be present in wood dust, depending on the species of wood. These compounds include alcohols, terpenes, sterols, glycerols, tannins, flavonoids, quinones, lignans, alkaloids, and proteins.[2]
Tree species are broadly classified into two types: hardwood (angiosperms or deciduous trees such as birch, maple, and oak), and softwood (gymnosperms or conifers such as Douglas fir, spruce, pine, hemlock, and cedar).[3] There are an estimated 12,000 different tree species worldwide.[2]
Wood dust has been classified by the International Agency for Research on Cancer (IARC) as Group 1, carcinogenic to humans. This classification is based on a clear relationship between high levels of wood dust exposure, particularly from hardwood species, and cancers of the nasal cavities, paranasal sinuses, and nasopharyngeal cancer.[1,4] Associations with laryngeal cancer, Hodgkin lymphoma, and other types of cancers have been reported but are not consistent.[1,2,4]
Other adverse health effects of wood dust exposure include eye, nose, and throat irritation from short term exposure.[5] Decreased lung function, increased respiratory symptoms, and allergic reactions are also associated with wood dust exposure. Asthma is typically associated with exposure to western red cedar, eastern white cedar, and many tropical tree species, but has also been linked to other common species such as pine and oak.[4] Skin contact with a variety of species, particularly tropical hardwoods, can cause allergic and/or irritant dermatitis.[5]
Regulations and Guidelines
Canadian Jurisdictions
OEL (mg/m3)
Canada Labour Code
0.5 [WRC, i, dsen, rsen]
1 [all other species, i]
BC
1 [allergenic species, dsen, rsen]
1 [non-allergenic hardwood]
2.5 [non-allergenic softwood]
AB
0.5 [WRC]
5 [softwoods and hardwoods except western red cedar]
MB, NL, NS, PE
0.5 [WRC, i, dsen, rsen]
1 [all other species, i]
NB
1 [certain hardwoods, such as beech and oak]
5 [softwood]
10 [softwood, stel]
NT, NU, SK
1 [certain hardwoods such as beech and oak, sen]
3 [Certain hardwoods such as beech and oak, stel]
5 [softwood, sen]
10 [softwood, stel, sen]
ON
1 [certain hardwoods]
5 [softwood]
10 [softwood, stel]
QC
2.5 [WRC, td]
5 [wood dust hard and soft, except WRC, td]
YT
5 [non-allergenic]
10 [non-allergenic stel]
2.5 [allergenic]
5 [allergenic stel]
Other Jurisdiction
OEL (mg/m3)
ACGIH 2020 TLV
0.5 [WRC, i, dsen, rsen]
1 [all other species, i]
mg/m3 = milligrams per cubic meter
WRC = western red cedar
i = inhalable fraction
dsen = dermal sensitization
rsen = respiratory sensitization
sen = potential for sensitization
stel = short term exposure limit (15 min. maximum)
td = total dust
ACGIH = American Conference of Governmental Industrial Hygienists
TLV = threshold limit value
Main Uses
Wood dust and other byproducts including wood chips, sawdust, and shavings are produced in the process of converting logs into finished wood products.[3] While some byproducts have end-uses in particle board, as fuel, or for composting, there is no specific use for fine particulate wood dust.[2]
Production in Canada
Lumber is the most significant wood product manufactured in Canada, followed by wood pulp.[3,21] The majority of exposures go to the US, China, and Japan.[22]
Softwoods are used most frequently in the Canadian industry, and Canada is the leading exporter and the second-largest producer of softwood lumber in the world.[3,21] Less than 40% of the lumber is used domestically, with the majority of exports going to the US, China, and Japan.[22]
Wood species vary by industry, region, and type of product. Quebec and Ontario produce the majority of hardwood lumber and plywood in Canada, while British Columbia produces primarily softwoods.[23]
Industries producing wood products include: sawmills, planing mills, and shingle mills; veneer, plywood, and oriented strand board; sash, door, and other millwork industries; wooden box and pallet industry; coffin and casket construction; and miscellaneous wood products such as toys, carvings, baskets, and crafts.[5,24] Wood is also used in the pulp and paper industry and for firewood.[5]
Occupational Exposures Overview
Inhalation is the most important route of exposure, however dermal contact may also lead to skin-related health outcomes, such as dermatitis.[2,5]
CAREX Canada estimates that approximately 304,000 Canadians are exposed to wood dust in their workplaces.The largest industrial groups exposed include residential building construction, building finishing contractors, furniture and kitchen cabinet manufacturing, and sawmill and wood preservation. The largest occupational group exposed to wood dust are carpenters. Other important occupations likely exposed are cabinetmakers, carpentry trades contractors and supervisors, and labourers in wood, pulp, and paper processing. Potential for exposure to wood dust can also occur in window and door manufacturing, joinery shops, wooden boat manufacture, installation and refinishing of wood floors, pattern and model making, and logging.[1]
Wood dust exposures have decreased significantly over the past few decades. Furniture and cabinetry shops are generally thought to have the highest exposures, particularly during sanding and finishing work, when the finest particles are generated.[1,25] Higher exposures have been measured in plywood and particleboard mills, where wood is sawn and sanded, and near chippers, saws, and planers in sawmills and planer mills.[1] A study in a British Columbia lumber mill also found high exposures during tasks such as sawdust clean-up, planing kiln-dried lumber, and driving mobile equipment in the yard.[26]
According to the Burden of Occupational Cancer in Canada project, occupational exposure to wood dust leads to approximately 10 nasopharyngeal cancers and 10 sinonasal cancers each year in Canada, based on past exposures (1961-2001). [27,28,29] This amounts to 4.6% of all nasopharyngeal cancers, and 4.4% of all sinonasal cancers diagnosed annually. Most wood dust-related cancers occur among workers in the manufacturing and construction sectors.[28,29] Work-related wood dust exposure resulted in approximately $5.4 million and $6.7 million in costs for newly diagnosed nasopharyngeal and sinonasal cancer cases, respectively, in 2011. [28]
For more information, see the occupational exposure estimate for wood dust.
Sources
Other Resources
Occupational Safety and Health Administration (OSHA). Safety and Health Topics: Wood Dust
Kauppinen T, Teschke K, Astrakianakis G, Boffetta P, Colin D, Keefe A, Korhonen K, Liukkonen T, Nicol AM, Pannett B, Westberg H. "Assessment of exposure in an international study on cancer risks among pulp, paper, and paper product workers."Am Ind Hyg Assoc J 2002;63:(3):254-261.
Demers PA, K Teschke K, Kennedy SM. "What to do about softwood? A review of respiratory effects and recommendations regarding exposure limits." Am J Ind Med 1997;31(4):385-398.
Subscribe to our newsletters
The CAREX Canada team offers two regular newsletters: the biannual e-Bulletin summarizing information on upcoming webinars, new publications, and updates to estimates and tools; and the monthly Carcinogens in the News, a digest of media articles, government reports, and academic literature related to the carcinogens we've classified as important for surveillance in Canada. Sign up for one or both of these newsletters below.
As a national organization, our work extends across borders into many Indigenous lands throughout Canada. We gratefully acknowledge that our host institution, the University of British Columbia Point Grey campus, is located on the traditional, ancestral and unceded territories of the xʷməθkʷəy̓əm (Musqueam) people.