Welding Fumes Occupational Exposures
Welding Fumes Occupational Exposures
Overview
CAREX Canada estimates that approximately 333,000 Canadians are exposed to welding fumes in their workplaces. The industries with the highest number of exposed workers are machinery and equipment repair and maintenance, building equipment contractors, and automotive repair and maintenance. The largest occupational groups exposed to welding fumes are welders and related machine operators, construction trades helpers and labourers, and automotive service technicians, truck and bus mechanics and mechanical repairers. The magnitude of exposure to welding fumes is influenced by many factors, including:[1,2,3]
The type of welding process (e.g. arc or gas welding)
The composition of the welding rod
The type of filler materials and base metals used
The type of coatings present
The setting in which welding is performed (e.g. open area or a confined space)
Type of ventilation in the workspace (e.g. mechanical, local, natural or no ventilation)
The work practices of the welder (e.g. use of personal protective equipment, removal of coatings, cleaning surfaces, working upwind when welding outdoors)
Prevalence Estimate
Results show that approximately 333,000 Canadians are potentially exposed to welding fumes in their workplaces; 93% of these workers are male. The top three industries with the highest number of exposed workers are commercial and industrial machinery and equipment (except automotive and electronic) repair and maintenance, building equipment contractors, and automotive repair and maintenance. The three largest occupational groups exposed to welding fumes are welders and related machine operators (102,000), construction trades helpers and labourers (25,000), and automotive service technicians, truck and bus mechanics and mechanical repairers (23,000).
Workers exposed to welding fumes by industry

*Commercial and industrial machinery and equipment (except automotive and electronic)
Workers exposed to welding fumes by region
Click the second tab to view total number of workers exposed.
* = < 50 workers
Level of exposure
In total, approximately 333,000 Canadians are exposed to welding fumes in their workplaces, with the majority of workers falling into the high (199,000) and moderate (103,000) exposure categories.
Methods and Data
Our Occupational Approach page outlines the general approach used to calculate prevalence and exposure level estimates for workplace exposures.
Data Sources
Data used in developing the occupational estimates for welding fumes were collected from several sources:
The Canadian General Population Job-Exposure Matrix (CANJEM), which was built from expert evaluations of occupational exposures in four case-control studies conducted from the mid-1980s up to 2010 in the greater Montreal area. Approximately 10,000 individuals were evaluated by experts who assigned exposures based on descriptions of work tasks, processes, work environment, and exposure control measures.
The European Community Respiratory Health Survey (ECRHS), which was a large study that looked at geographical variation in asthma and allergy in adults. The database includes information on ∼140,000 individuals from 22 (mainly European) countries.
Scientific peer reviewed publications that addressed welding fume exposure in the workplace.
Grey literature including technical reports from governments and international bodies.
Prevalence Estimate Method
CAREX defines exposure to welding fumes as inhalation to welding fumes at work above levels expected to be encountered in the general environment (e.g. a bystander near an open construction site where welding activities are performed).
To determine the number of workers potentially exposed to welding fumes at work, CAREX occupational exposure experts used methods previously established in other peer-reviewed CAREX projects in Europe. A series of steps were taken to assign exposure proportions to occupations and industries at risk of exposure to welding fumes.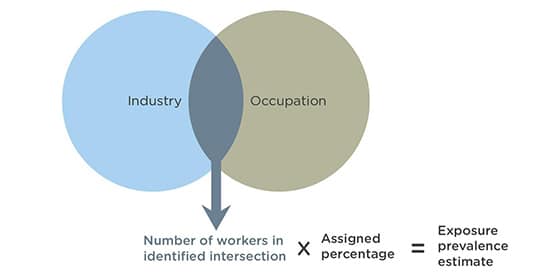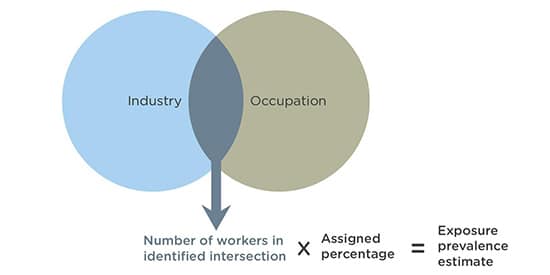 Occupations and industries at risk of possible exposure to welding fumes were identified using any combination of data sources described above.
The total number of workers in each identified occupation and industry intersection was obtained from Statistics Canada 2006 census data.
A percentage of workers exposed was assigned to that occupation and industry intersection. Percentages were determined by consultation with existing evidence in the data sources, previously established methods from the Europe CAREX estimates and the expert judgement of CAREX occupational hygienists.
The number of workers in the identified group is multiplied by the assigned percentage to calculate the prevalence estimate of workers exposed to welding fumes.
Exposure Level Method
There was not sufficient exposure measurement data in CWED to use our traditional Occupational Approach. Therefore, we used a modified approach to generate estimates of the level of exposure to welding fumes. This involved using expert judgment of occupational hygienists to assign each job category into one of the following groups:
High – main job duties include welding more often than not.
Moderate – main job duties include welding intermittently or working in close proximity to welding activities often.
Low – main route of exposure is via bystander effect, such as working near welding activities more often than not (e.g. near a welding bay).
Subscribe to our newsletters
The CAREX Canada team offers two regular newsletters: the biannual e-Bulletin summarizing information on upcoming webinars, new publications, and updates to estimates and tools; and the monthly Carcinogens in the News, a digest of media articles, government reports, and academic literature related to the carcinogens we've classified as important for surveillance in Canada. Sign up for one or both of these newsletters below.
!References Error:MISSING TAG: 30