We are pleased to announce that our newest CAREX Canada tool, eRISK Online, is now available.
eRISK Online is an interactive tool developed by CAREX Canada that allows users to explore the cancer risk associated with exposures to known and suspected carcinogens in the environment. Cancer risk is estimated at a population level using Lifetime Excess Cancer Risk (LECR) or the expected number of additional cancer cases in Canada above the national average. These screening-level estimates allow users to compare substances and exposure pathways, and supports priority setting for exposure reduction efforts. Users include policymakers, public health professionals, and researchers from academia and environmental NGOs.
"I found it easy and simple to use. 6-7 lines to pick. All on one page. I found this one more straightforward compared to the old tool or other tools." – User Tester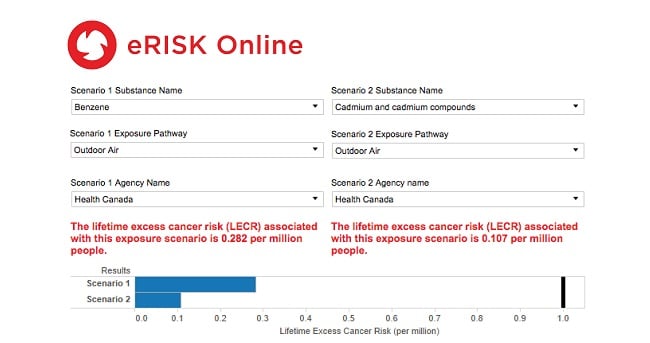 There are currently five exposure pathways – outdoor air, indoor air, dust, soil, and drinking water – and over 30 substances – including radon, asbestos, and formaldehyde – to explore. You can compare up to two exposure scenarios at a time, and an interactive graph visualizes your results. You can also enter your own environmental concentration data to create custom estimates, which can then be compared to national averages.
"The online eRISK tool provides an accessible, valuable way to conduct screening-level investigations into exposures of concern, such as arsenic in drinking water." – Health Authority User Tester
eRISK Online can help users answer questions such as:
Is exposure to arsenic in drinking water or dust associated with a higher cancer risk?
I have my own data on the outdoor air concentrations of benzene in my region. What is the cancer risk associated with this concentration? How does it compare to the national average?
Which known and suspected carcinogens in outdoor air have a cancer risk above the level of concern?
eRISK Online can be accessed via the Tools tab on our website. We have prepared a Quick Start Guide and a comprehensive User Manual on using the tool. Information about the substances' environmental exposure, methodology, and data are available through the Profiles & Estimates page.
Please get in touch with us if you have any questions.
Subscribe to our newsletters
The CAREX Canada team offers two regular newsletters: the biannual e-Bulletin summarizing information on upcoming webinars, new publications, and updates to estimates and tools; and the monthly Carcinogens in the News, a digest of media articles, government reports, and academic literature related to the carcinogens we've classified as important for surveillance in Canada. Sign up for one or both of these newsletters below.